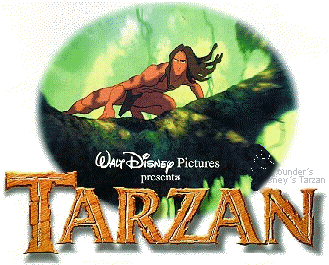 Director

Co-Director

Chris Buck

Producer

Bonnie Arnold

Co-Producer

Chris Chase

Art Direction

Dan St. Pierr

Background Direction

Doug Ball

Layout Supervisor

Jean-Christophe Poulain

Effects Supervisor

Peter De Mund

Clean-Up Supervisor

Marshall Toomey

Art Director

Daniel St. Pierre

Editor

Greogory Perler

Screenplay

Tab Murphy, Bob Tzudiker
And Noni White

Head of Story

Brian Pimental

Supervising Animators

Tarzan - Glen Keane
Porter - Dave Burgess
Kala - Russ Edmonds
Terk - Mike Surrey
Kerchak - Bruce Smith
Tantor - Sergio Pablos
Jane - Ken Duncan
Clayton - Randy Haycock
Sabor - Dominique Monfery
Ape Family - Jay Jackson
Baboons - Bruce W. Smith
Captain & Thugs - T. Daniel Hofstedt
Flynt & Mungo - Chris Wahl

Based on the story TARZAN OF THE APES
by Edgar Rice Burroughs
---

Backgrounds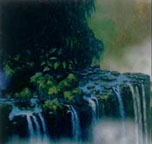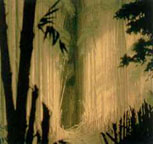 ---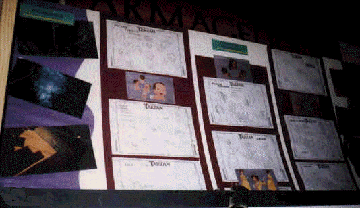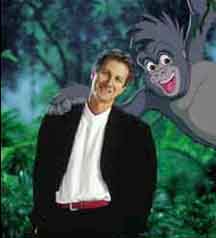 Chris Buck and Terk
Tarzan's Director, Kevin Lima made his directing debut in 1995's "A Goofy Movie", along with animation, character design and story development for such Disney features as "The Little Mermaid" (Ursula, Flounder), "The Rescuers Down Under" (Jake and Frank the frill-neck lizards), "Beauty and the Beast" (Lumiere), "Aladdin" and "The Lion King". He also animated the character "Fagin" for "Oliver & Company". Co-Director, Chris Buck started with Disney in 1978 working as an animator on "The Fox and the Hound", supervising animator on "Pocahontas", character designer on "The Little Mermaid" and "The Rescuers Down Under" and storyboard artist on other animated projects. Buck also oversaw the animation for "Percy", "Grandmother Willow" and "Wiggins" from "Pocahontas". Producer, Bonnie Arnold, previous credits include 1995's "Toy Story" and the live-action film "Dances With Wolves".
The help in the creative process for the film, the directors and a group of artistic supervisors set out on an African safari in March, 1996. The studied at an animal reserve in Kenya, visiting mountain gorillas in Uganda and observing Bwindi's Impenetrable Forest.
From the Disney Magazine, "...Like so many innovations in animation, what (Eric) Daniels has dubbed 'deep canvas' evolved as the solution to a problem. 'Realism in nature is still technically hard to capture, and the setting of Tarzan is almost all jungle,' says Daniels. 'Nature's curves and spheres are tough for computers.' Using a sophisticated, pen-like mouse known as a stylus, Daniels' deep canvas software, which he created with Disney software programmers Tasso Lappas (Fantasia 2000) and George Katanics (The Hunchback of Notre Dame), enables animators to use the stylus as they would a paintbrush. They can mix colors and create textures, and even zoom in for very delicate detail work. 'As if using a paintbrush, an animator can create soft, impressionistic backgrounds previously unattainable with a computer,' explains Daniels. Once the painting is complete, the computer transforms the image into three dimensions, creating - in the case of Tarzan - a lush, deep jungle. Three dimensions and the illusion of the computer entering the painting and moving through it distinguish this paint program from other software. Daniels chose the term 'deep canvas' to emphasize that the technique relies on the artist. 'Without artistic sensibility, the program is useless.'"
From the "Mulan" Home Video: Glen Keane stated that the inspiration of Tarzan's movements throughout the jungle scenes were greatly inspired by his son and other athletes that surf, snowboard and skateboard.
"Paradise untouched by man, Within this world blessed with love,
A simple life, they live in peace."

Jungle News
| Story | Crew | Cast | Music | Gallery | Links |
Sketchbook | Merchandise | Awards | Art | Legend of Tarzan